Ah, yes.. Part 2.
This is where we cover some of the tools I am using to learn guitar.
Back while we were living full time in the Motorhome in DC, I decided I wanted to learn how to play the 6 string. I already played bass, just not as well as I would like, so it was only natural to want to learn how to play something that was more "front" of a band.
Do not get me wrong. Bass is an amazing instrument, and can be utilized as not only the foundation, but even the focus of a band. So, this is in no way an insult to the instrument, and it will always be one I have.
Anyways.
Back in October 2011, Ubisoft decided to put an answer to Rock Band and Guitar Hero out on the market. Enter, Rocksmith.
This game not only has the notes flying at you, like in those "rhythm" games, but it doesn't use some plastic button controller. It uses a real guitar.
Point in fact, and what sold me on it originally, is there was a "bundle" that came WITH a real guitar.
This one:

It's not a bad guitar, it just isn't something that works well for a beginner with rather large hands. The neck is not big enough for me to get my fingers in the chord shape, to start with. Remember those words. "To start with."
The game though, helped me understand what it is I wanted, and how fast songs really are. The lessons even helped me learn some better technique.
Yet it sat for the most part. Not being able to get a chord to ring true on the guitar, just was like a stab to my heart. I gave up.
Then, Ubisoft and Rocksmith did something that got me back in.
The added bass functionality to the game. It was for more than just a 6 string, I could now play bass lines.
Sure, it wasn't helping me learn "guitar", but hey, it taught me a lot of bass parts.
I fiddled with that for sometime, and then as normal. Lost interest.
Not long after I lost interest, we moved to Oklahoma, bought a house, and the drives to work required me to listen to the radio or something. Over an hour at times, one way. Yeah, I needed tunes.
XBox Music on my Windows Phone gave me tunes. In fact, it gave me unlimited blues, which.. Brought the music bug back.
I knew the game would not give me what I was after, as I couldn't get my fingers where they needed fast enough.
Stopped into a local music store by the name of Music Unlimited and talked with the staff, more than once. Then I finally bought a guitar on their advice.
A nice nylon classical acoustic, to get that old style sound, and have enough room for my fingers.
Enter the Alvarez.

It even has a tuner, eq, and pickups built in, so I can use it with the game if I want.
One thing I will say to all people who are starting to learn guitar. Get a classical guitar. Being able to have chords ring true, not only helps you feel like you are getting somewhere, after practice it helps you move to that smaller neck electric.
I futzed with this for months. Playing around with different chords, as well as some basic riffs. I didn't really pick the game back up though.
Then came out Rocksmith 2014.
I got the game, saw it had some blues, and even allowed me to move the original songs into it. The bug was in full swing, but I was still working on learning the chords and finger placements. I played with the game some, even more so in the lessons, but it still pretty much sat.
The Alvarez, while a nice acoustic, just did not ring the notes long enough for me. I was not able to hold out that long 12th fret first string E. So I started looking at another acoustic.
Enter the Fender T-Bucket.

Now, of course, one of the first things I did was accidentally slam the case against the strings and bridge. Nicking the G string, and causing that string to sound off. So back to the store, and picked up some nice mellow brass strings.
This guitar really opened me up. I learned how to make it sound like more than one guitar, how to get overtones, but.. Those darn chord changes. It is a narrow neck compared to that classical Alvarez.
Then I decided it was time to get back into the game. I wanted to start to piece it all together. That Epiphone Junior, just did not work for me. At all.
It just so happened, enough time passed that I had a bonus from work, which means I had a little bit of play money.
Came home with a nice Gretsch with a Bigsby Tremolo.

The colored strings I just put on today actually, they give it a slightly warmer sound, and well.. They are color coded to the game.
This guitar did many things for me:
1. It's like potato chips. Once you start, you can't stop. Oh man, it's so hard to stop. I look at guitars now and go, "Wonder what that sounds and feels like?".
2. The neck is just right between the Epiphone Junior and the Alvarez. I can actually play chords, after I practice them on the Alvarez.
3. The game works perfectly with it. No dropped notes. It can tell where I am on the string, and what string. It's even it a pleasure to play the game now.
Yet that darn Rocksmith cable. Word of advice, if you get the game, get a patch box you can plug their cable into, and then you can plug YOUR cable into that. This way, you don't move their cable around all the time, causing it to break. Also, unplug it when no in use. The ground loop you can cause will fry it. I have gone through 4 now. My only real complaint about the game.
As I didn't always want to play the guitar in the game, I picked up a Digi Tech RP360 XP. This gave me different amp sounds, a wah/volume pedal, and I can use headphones or USB audio off of it. I already had an M-Audio M-Track Plus, so I can also run to that directly if I want.
So, that's my gear. Not much on the game you say?
That's because you never want just one thing to be your focus, as when it becomes and issue, you may just give up.
Yet, let's really cover the game.
Rocksmith 2014 introduced the Session Mode. This is one of the biggest selling points. As it allows you to setup a backing band, select the key, type of scale, and even rhythm and if the BPM is locked or freeform.
This is good for many reasons, but the main one I can't stress enough. Learning those scales.
I don't care what instrument you play. If you don't learn the scales, and not only know the basic theory behind them, you will not be able to make that instrument sing. It just won't feel like, you.
This mode not only helps with that, but helps guide you into the different licks you can play in that scale. Helps you learn box patterns, and how that can change the whole tone of the band as you jam.
Sure, learning songs can teach you a lot. It does not teach you how to improvise.
Of course, we all want to learn some songs, and that's where another feature comes in that sells the game for me.
Riff repeater.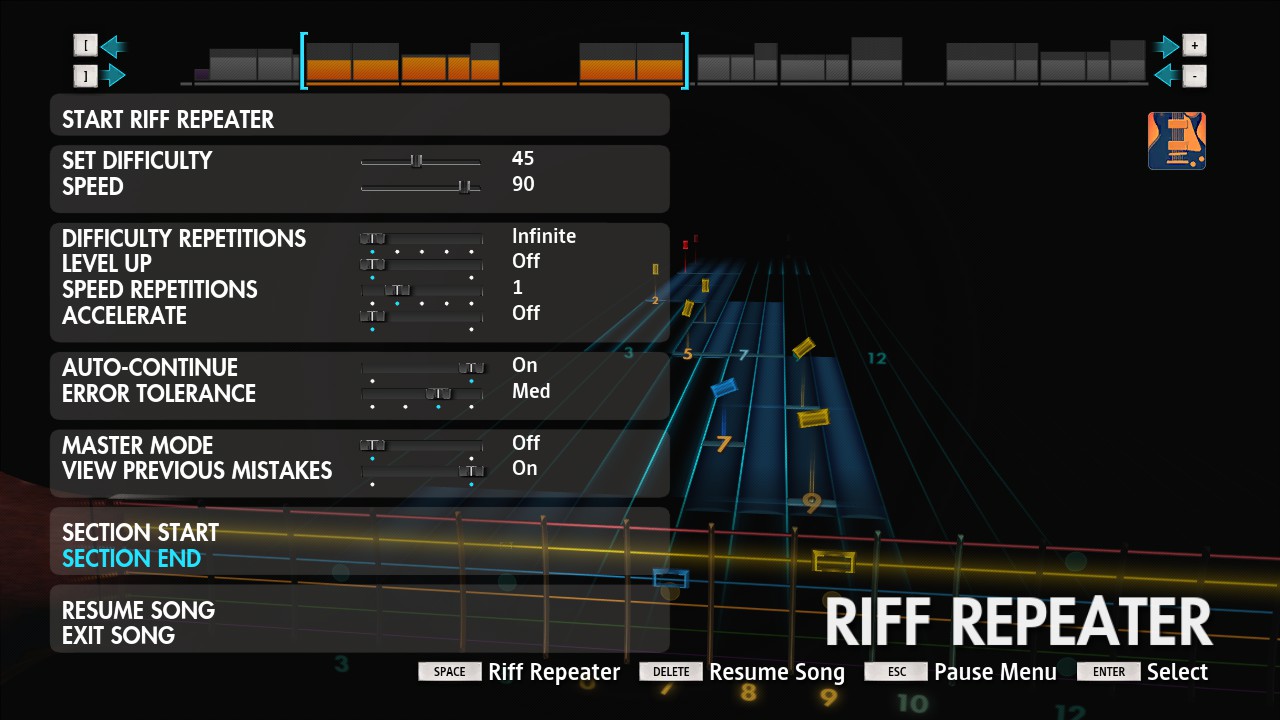 I can not say enough good things about this. One of the most annoying things about trying to learn a song, is how fast the notes can be. They overlap, and it makes it hard to tell what note is where, let alone, when. This allows you to slow all of that down, and just go over that section you are having issues with, over and over and over.
Significant Other Warning: Riff Repeater will become your partners worse nightmare. Hearing that spot of a song, non-stop, will just drive it into the center of their brain. Even more so, as they will hear your frustration as you miss notes and just keep doing it again and again. Make sure your partner can get away from it.
Then, we come to the lessons.
These lessons will help you learn the basic techniques of many things. Even in the very small sampling you can see in this image, they are things that every guitarist should learn. I'm not going to cover them all.
Of course, there are the games as well.. Let's just say, there are enough things in this game, I highly recommend it.
There is one thing missing though. It does not teach you how to read sheet music.
No, reading sheet music is not a "NEEDED" skill, but, it will help. Many of the greats in blues actually wrote their music down. I highly suggest learning this kill.
Finally, no game will replace hands on lessons with a real expert. Find one you click with, who knows what they are talking about. There are many bad habits one will pick up as they self teach, and those lessons will help you work around them.
While at the crossroads, remember that music without soul is worthless.
Part 3 will cover a little bit of the blues as well as the pain one can feel while learning. Fingers are a little raw to cover that now.
-Z